Creative Commons Moo Stickers
Using the Moo API, I have created a sticker book of Creative Commons logos which can be sent straight to your door. There are 7 stickers representing the different licenses. These can be applied to physical objects to tell the world how they may license the work.
When you click the button View Moo Stickers you will be taken to moo.com with the images all uploaded and ready to go. From there, you can remove any of the licenses you do not wish to print. Once you have finalized the set, you will continue through the moo check-out process.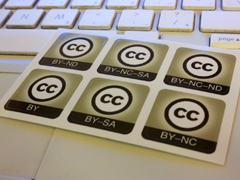 Photo by: Josh Russell Copyright BY-NC-SA
MOO has temporary closed their API, but you can still order stickers, here is a list of the images so you can download them and create your own sticker book.
Last modified: December 12, 2009 15:45:59 UTC
Copyright 2002-©-2022 Brian Suda
http://suda.co.uk/projects/cc/moo/